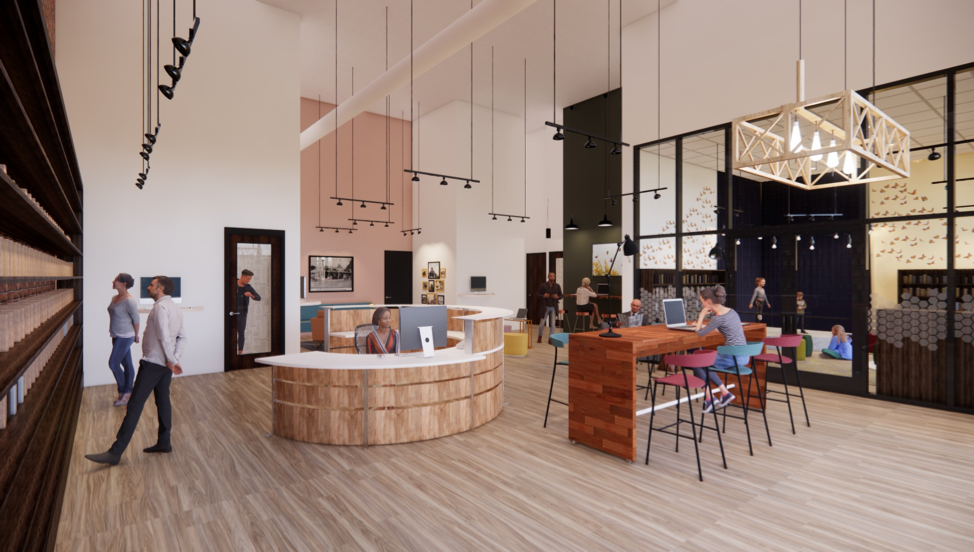 Rendering of the interior of a satellite library location at Lake Walk.
The
Bryan + College Station Public Library System
is exploring the possibility of building out a satellite library location at Lake Walk to help serve residents in western and central areas of the community.
The satellite location is slated to be located in the 2,371-square-foot space between POV Coffee House and The Children's Museum of the Brazos Valley at the Lake Walk development in western Bryan.
Library System Director Bea Saba made a presentation to the Bryan City Council on June 14 outlining the conceptual plans for the location. It features open space, display art, work stations, and a changing collection display. There will also be a separate children's area with moveable seating, which will be a creative, adaptive space that will cater to kids and their imagination.
"It's not going to just be a warehouse of books," Saba said. "It going to be a space for the community."
Saba said the space was designed to mimic the feel of the community it would be built in – with warm, comfortable and stylish details that took inspiration from the Lake Walk neighborhood. The space will be focused on providing services that the community has asked for, including arts, culture, creativity, digital inclusion and community partnerships.
"As people come to the cities, we need to find ways to provide the resources they want and need," Saba said. "This is something the community came to us wanting, and we want to provide those services as much as we can."
The Library System is currently partnering with the Friends of the B+CS Public Library System, the Bryan Business Council and individual residents in the community to fund the build out of the space. Estimated costs for that are approximately $250,000. If the project is ultimately approved, additional funding could be provided by the City of Bryan for continued operations.
While there is not a solid timeline for construction nor funding for operations identified yet, the Library System is actively seeking additional community partners who want to help make the Lake Walk location a reality. Those interested should contact Saba at 979-209-5611 or bsaba@bryantx.gov.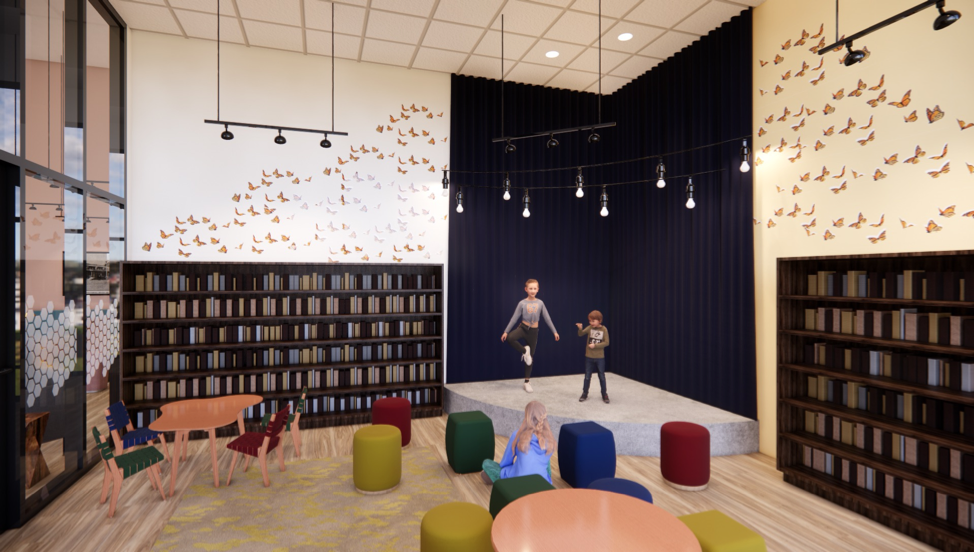 Rendering of children's area at potential Lake Walk satellite library location.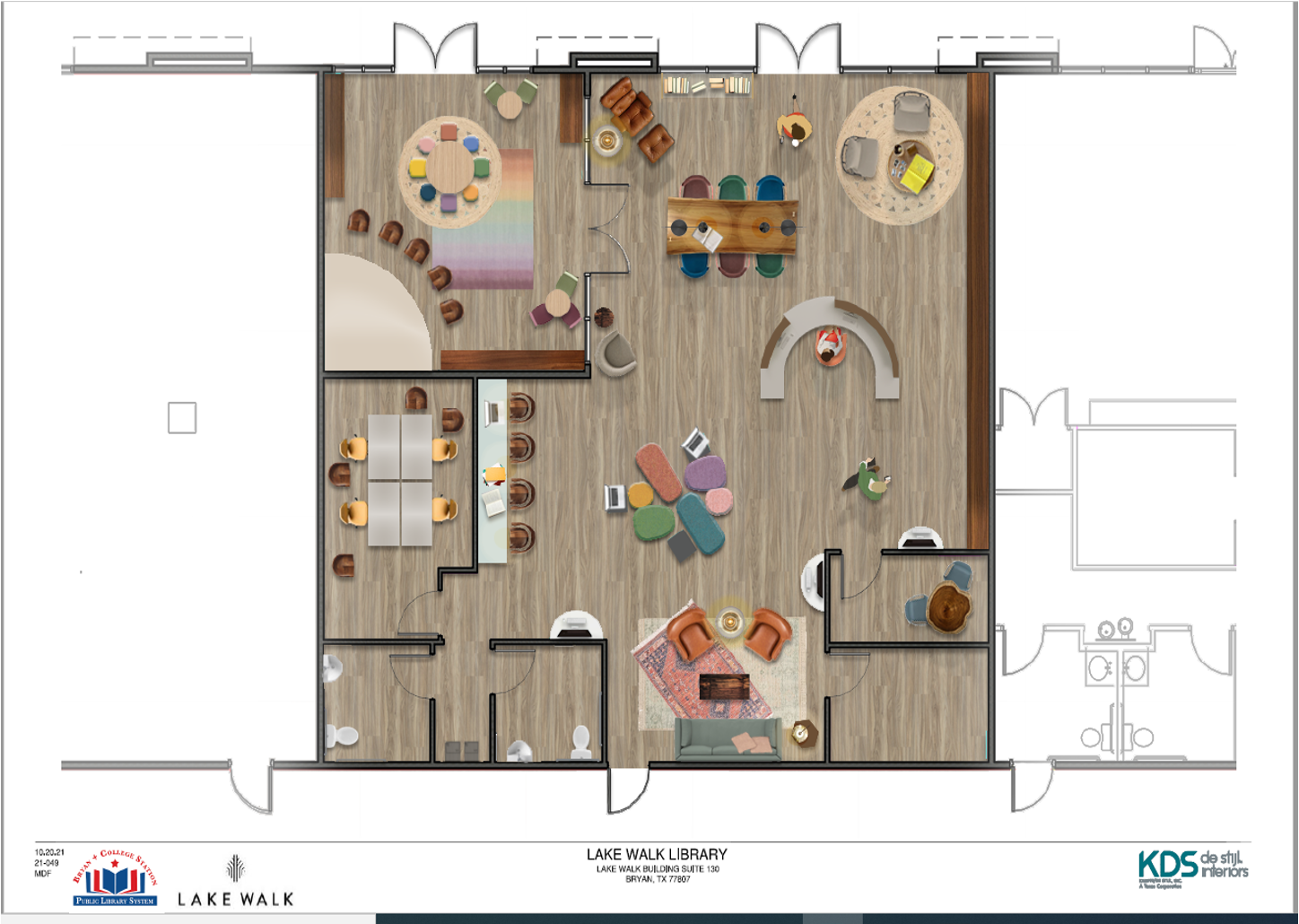 Rendering of floor layout of potential satellite library location at Lake Walk.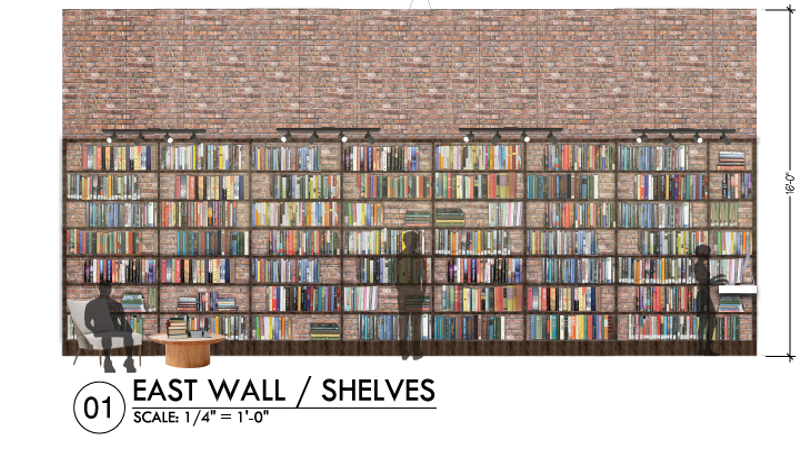 Rendering of east wall shelves of potential satellite library location at Lake Walk.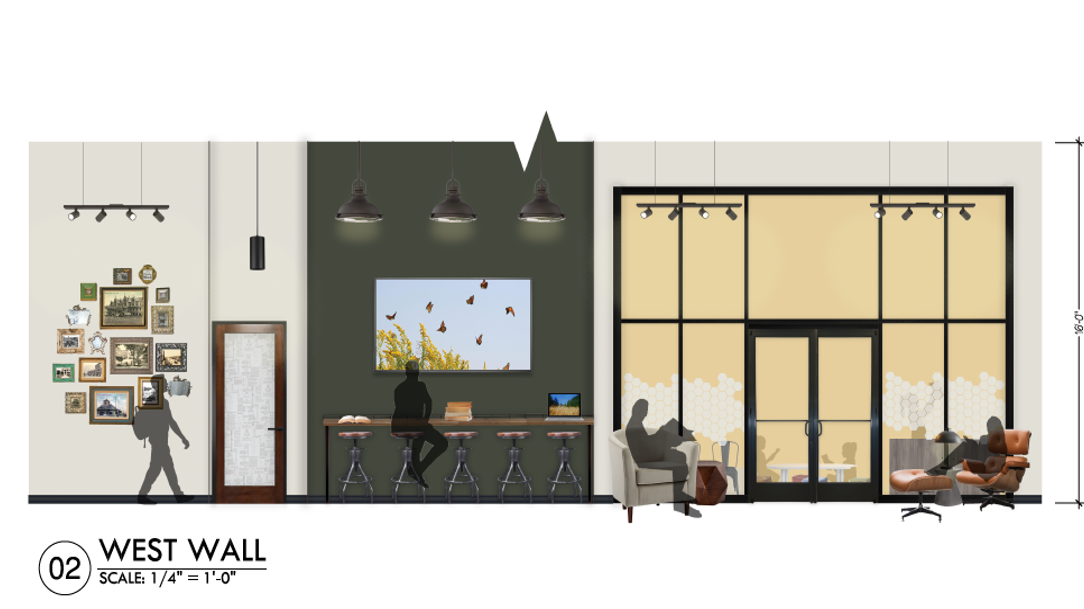 Rendering of west wall layout of potential satellite library location at Lake Walk.