The COVID-19 pandemic challenged educators to innovate with a mix of in-person and online learning, and this made access to homework help and tutoring services more important than ever. Even though education in the Brazos Valley has generally returned to its pre-pandemic methods, having an online resource for homework help and tutoring is still a great idea.
That's why we continue to provide free Live Homework Help for elementary and high school students, and offer a variety of other free educational assistance programs for learners of all ages through Tutor.com.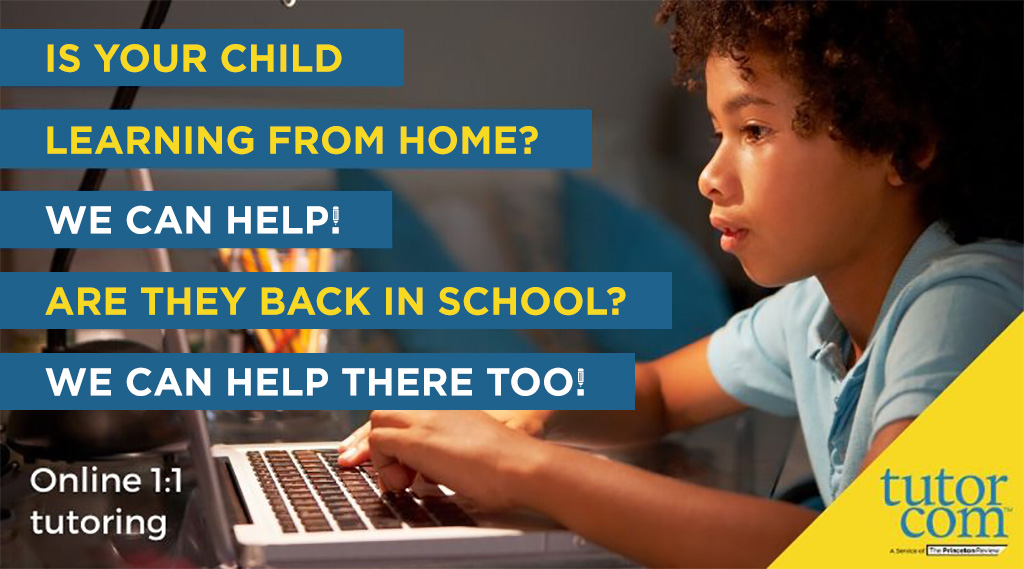 What is Tutor.com?
Tutor.com is a tutoring service that connects students to tutors in an online classroom setting. The program connects learners to expert tutors online in more than 200 academic subjects and test preparation areas in an engaging and uplifting learning environment. The program is available on-demand, 24 hours a day, 361 days a year.

When is it available?
Live Homework Help tutors are available every day from 2 p.m. – 9 p.m., while the Learning Centers for Writing, Test Prep, Adult Education, Career Study Skills and more are available 24 hours a day, 7 days a week.
How does it work?
The Tutor.com program connects learners with a tutor via a live one-on-one chat or voice call for free. All communication with a Tutor.com is kept anonymous to protect privacy and confidentiality.
Your access to Tutor.com will get you:
K-12 Student Center with Live Homework Help, Write Tutor Center, Test Prep Center, Skills Center Resource Library
College Center with Live Tutor
Adult Education Center
Career Center
Study Skills Coaching
Getting started
If you already have a library card, you can get started right now. If you don't have a library card, you can get one by visiting our library locations or register online for the 180-day Virtual E-card. Library cards are free to residents of Brazos County.
You can access Tutor.com from any web browser on your computer, tablet or smartphone. And there are also iPhone, iPad and Android apps available for download from the App Store and Google Play.
Did you know? Tutor.com can help adults too
Connect with an expert career tutor or access helpful job search resources through our newly offered service. All you need is a library card.
Find job opportunities online
Get help completing an application
Write a strong cover letter and resume
Practice and prepare for an interview