The Bryan + College Station Public Library System celebrates the life of former College Station Mayor Larry J. Ringer who died on June 28 at the age of 85.
---
When you visit the public library branch in College Station, you see his name on the building: Larry J. Ringer Library.
A longtime advocate for the Bryan + College Station Public Library System, Larry J. Ringer was instrumental in the creation of the College Station library branch in 1987 and worked for years helping promote, encourage and develop the library system.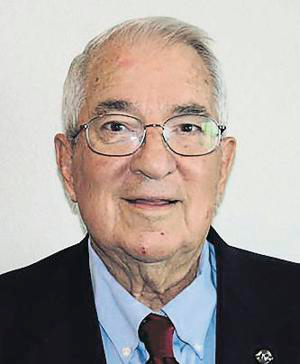 From fundraising book sales as a board member and treasurer of the Friends of the Library, to providing free tax assistance to residents of Brazos County as an AARP Foundation Tax-Aide volunteer, Mr. Ringer was at the forefront of the library system's growth and outreach for more than 35 years.
The College Station library branch was renamed in his honor in 2004. After years of growth, a newly expanded and renovated Ringer Library facility opened in 2019.
"Larry was a great leader and a gentle soul who made a significant difference in the community he lived, worked and played in," said BCS Library System Director Bea Saba. "It is with such sorrow to have lost one of the great ones."
Mr. Ringer served continuously as a board member and past president of the Bryan + College Station Public Library System Advisory Board for more than 25 years ­– since his appointment by the College Station City Council in 1998. During that time, he worked with both public and private groups to advance the best interests of the library system, and recommended policies and programs to the Bryan and College Station city councils to enhance the system's branches.
Mr. Ringer served as College Station's mayor from 1986-1995 and was a College Station city councilman from 1976-1984. He had a long career in the Department of Statistics at Texas A&M University, serving as a faculty member and professor emeritus. Mr. Ringer was 85 years old.
Service information
Visitation will be Friday, Aug. 25 at Callaway-Jones Funeral Home and Cremation Center in Bryan from 4 – 6 p.m., and a Celebration of Life will be held Saturday, Aug. 26, at Christ Church (4201 State Highway 6 Frontage Road, College Station) starting at 10 a.m.