The Bryan + College Station Library System is proud to announce that we now have two branches that are recognized as official Family Place Libraries. Larry J. Ringer Library joined Clara B. Mounce Public Library as a member of the Family Place Library network during a banner presentation in February.
"The core mission of the Family Place Library initiative is to build foundations for early learning," said Bea Saba, Library System Director. "Being a part of this initiative and network shows how we are trying to fulfill that mission in the Bryan + College Station Public Library System, and it allows us to access additional materials and resources to continue to make our early education experiences better."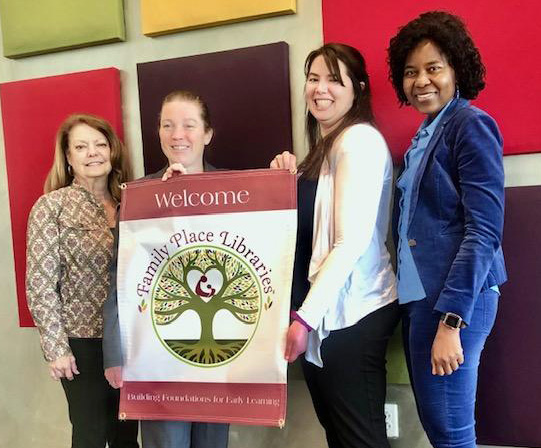 Mounce and Ringer libraries are among more than 450 Family Place Library sites in 29 states that are making an impact in their communities. These libraries aren't just about books. They are community centers for literacy, early childhood development, parent education and engagement, family support and community information.
About the Family Place Libraries initiative
The Family Place Libraries™ initiative is a national model for transforming public libraries into welcoming, developmentally appropriate early learning environments for very young children, their parents and caregivers.
Based on research on early brain development, the Family Place Library supports the essential role of parents as first teachers and addresses the physical, social, emotional and cognitive aspects of child development to help build a foundation for learning during the critical first years of life.
By partnering and working with other social, health and educational services providers, the Family Place Libraries model aims to ensure that all children enter school ready and able to learn and it positions libraries as key early childhood and family support organizations within the local communities.